Today I thought I would show you some of the projects I finished last year but didn't get chance to post, plus it gives me a chance to use my new camera.Talking of the camera the first thing to show you is the case I made for it out of scrap wool. It's small enough to fit in my handbag and this will stop it getting scratched. It looks much better with the camera in it but for obvious reasons you won't get to see that image.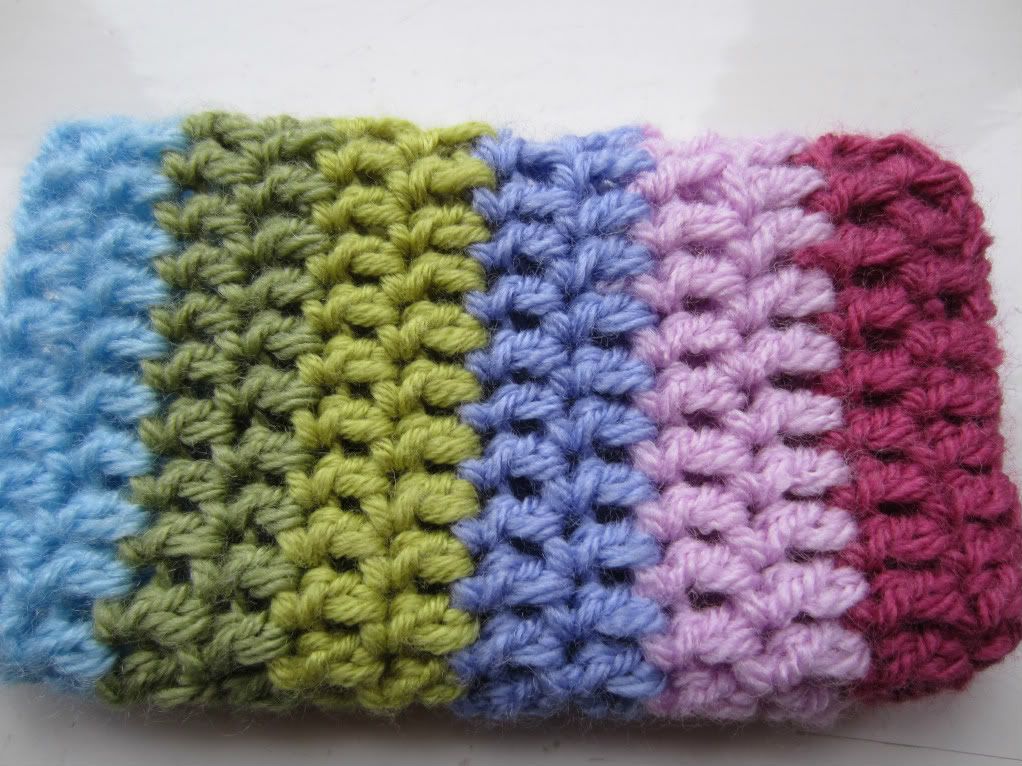 The following photos are of the ripple blanket I made for George (little T, he doesn't like being called that anymore!). He requested a blanket at the beginning of December when he saw my ripple blanket. So always keen to start something new before finishing something old (and because I can't resist buying more yarn) we chose and ordered the wool together straight away. It took about three weeks to make and he's really pleased with it. I used Stylecraft Special DK for this, it's certainly the best acrylic yarn I've used, it's very soft and there is a fantastic range of colours.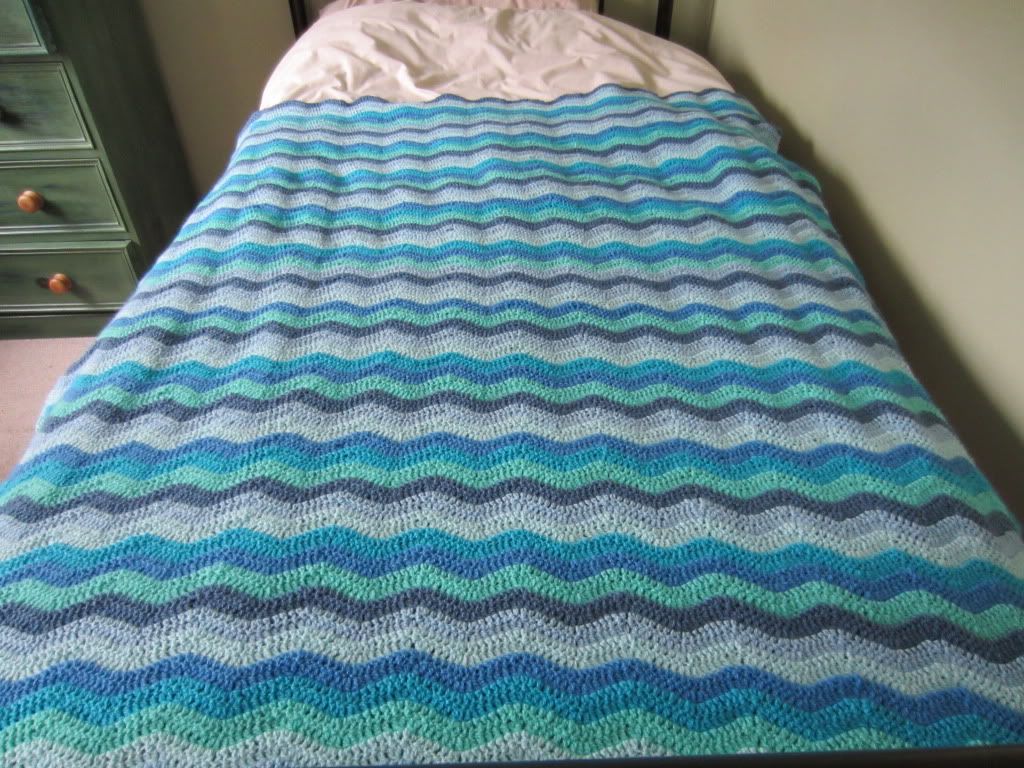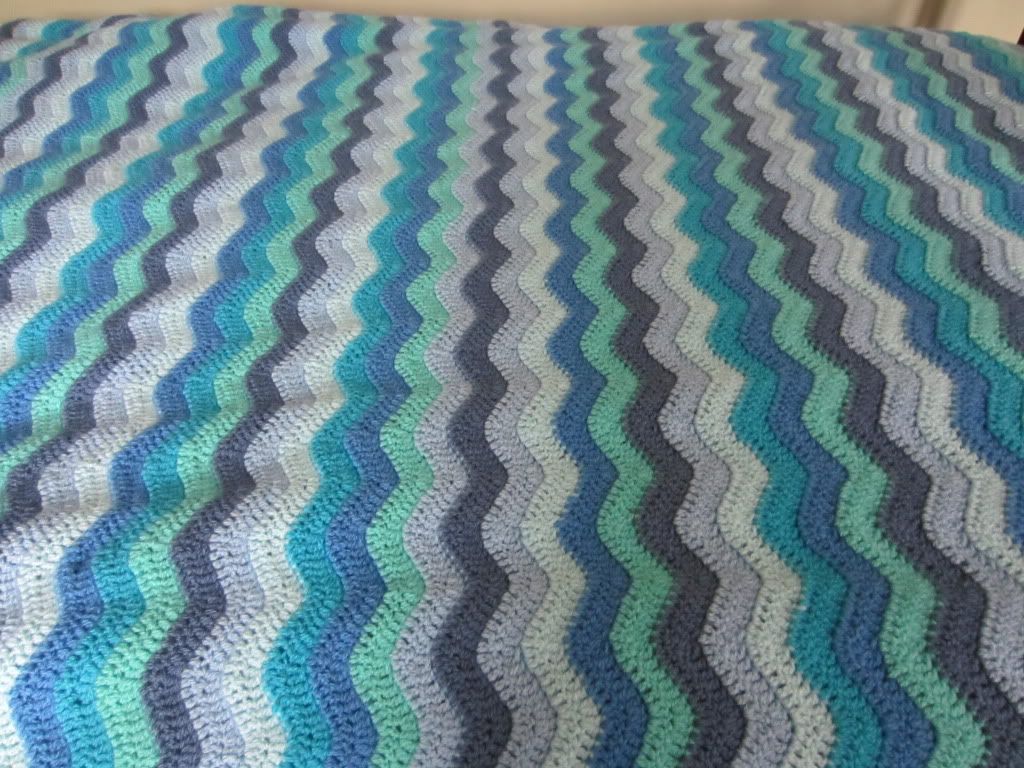 One of the colours that George chose was a greenish colour which I didn't think it would work with the others but he was insistent and surprisingly it looks quite good.
This scarf I finished ages ago, it's made with the Angel wool I got for my birthday from my friends. It's a really delicate pattern which I thought would work well with the wool. The pattern was fairly easy to follow but it was quite slow as the wool is very fine and fluffy but the result is beautiful. I can't remember where I got the pattern from but it was somewhere on the internet.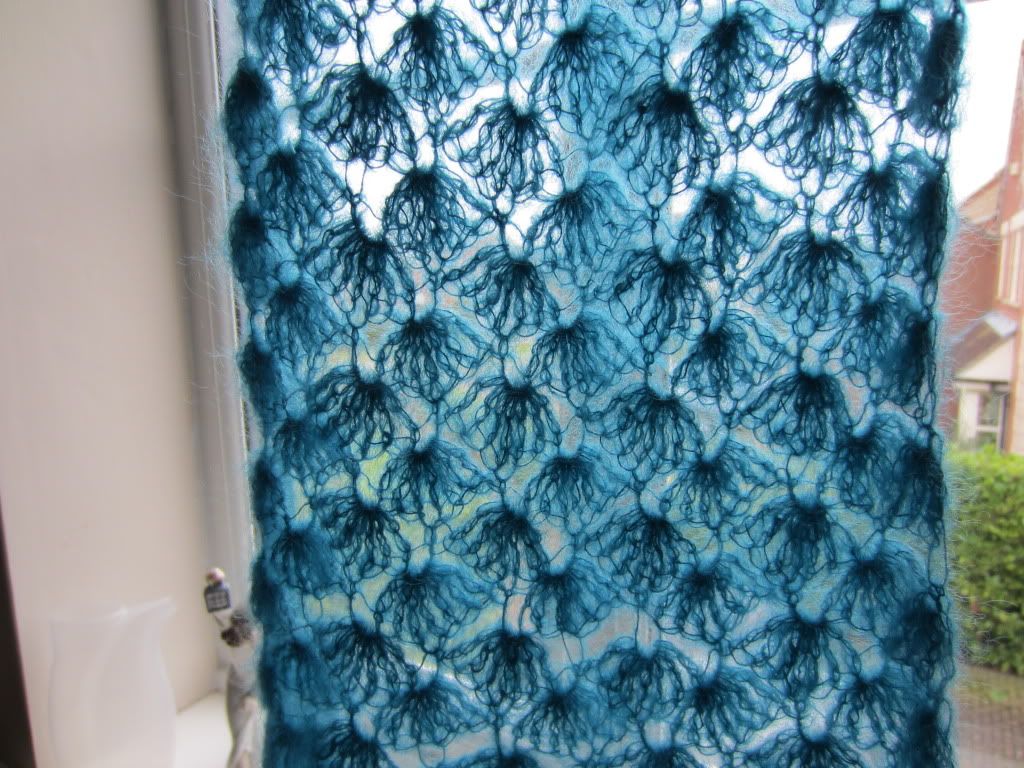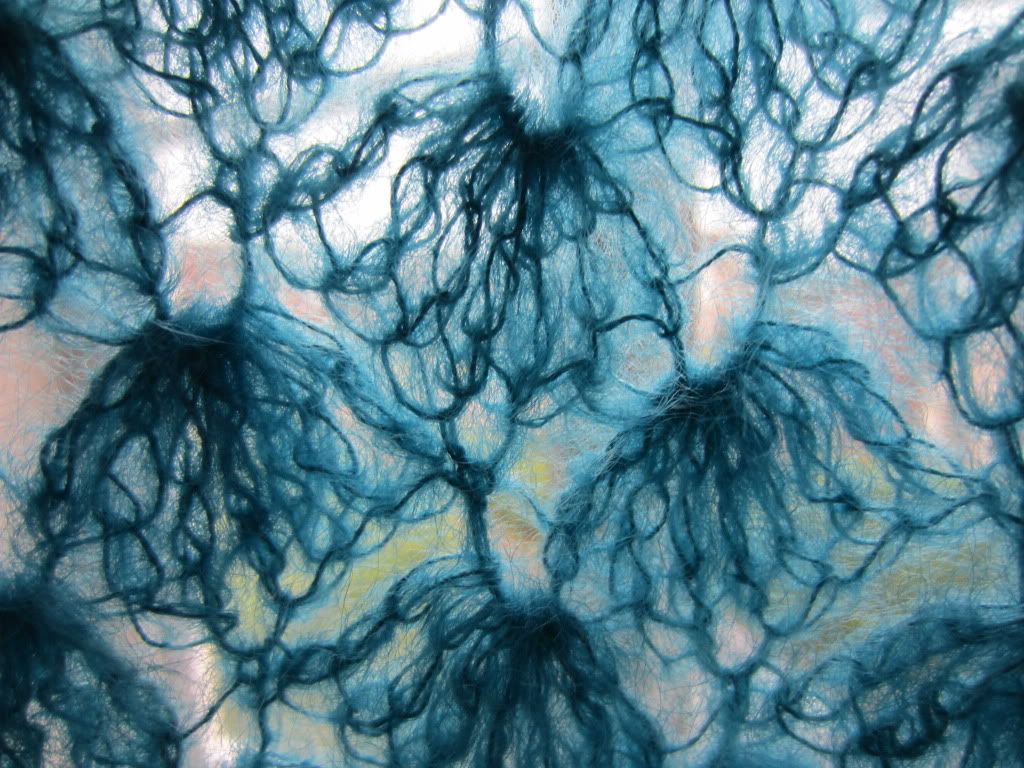 The next two cushions I made earlier in the year. I just had a sudden urge to re-cover the cushion pads that I already had and came up with these designs. They are made with a mix of Stylecraft and Boyes acrylic yarn and they live in the spare bedroom. My mind is already thinking ahead to what else I can make for that room.
I haven't given up on knitting completely, I have just finished two pair of socks. the first pair is made with Regia wool and is self striping.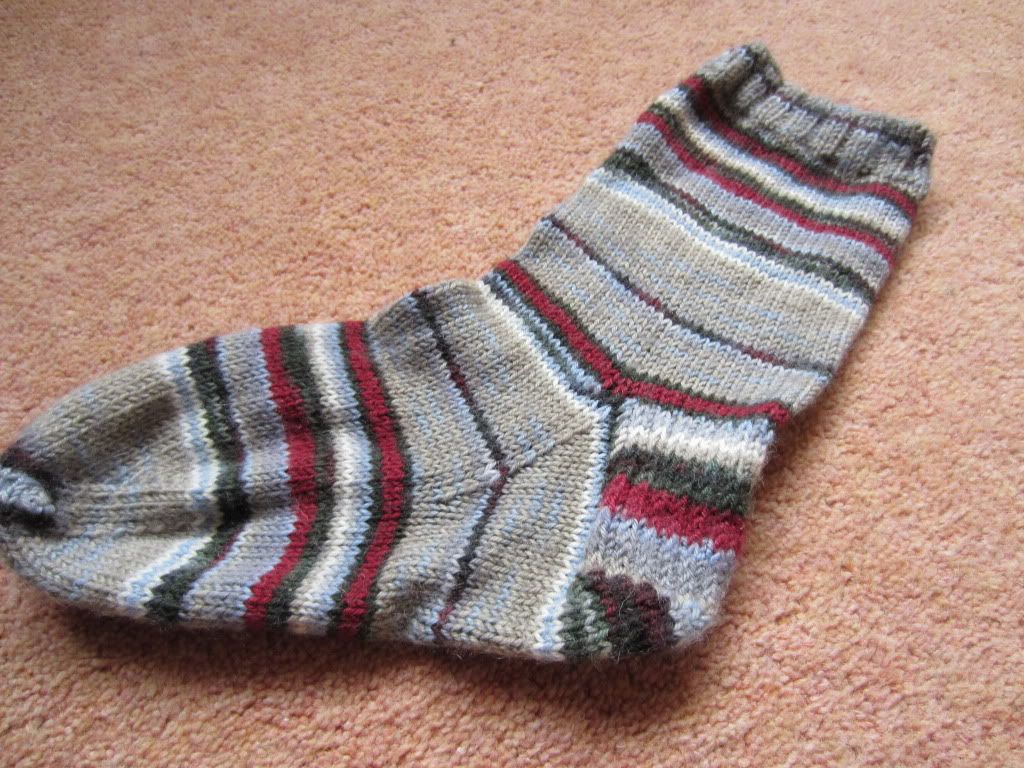 I made a flap heel on this pair as it's quite easy to do but they never sit properly on my foot, they always seem too baggy around the heel.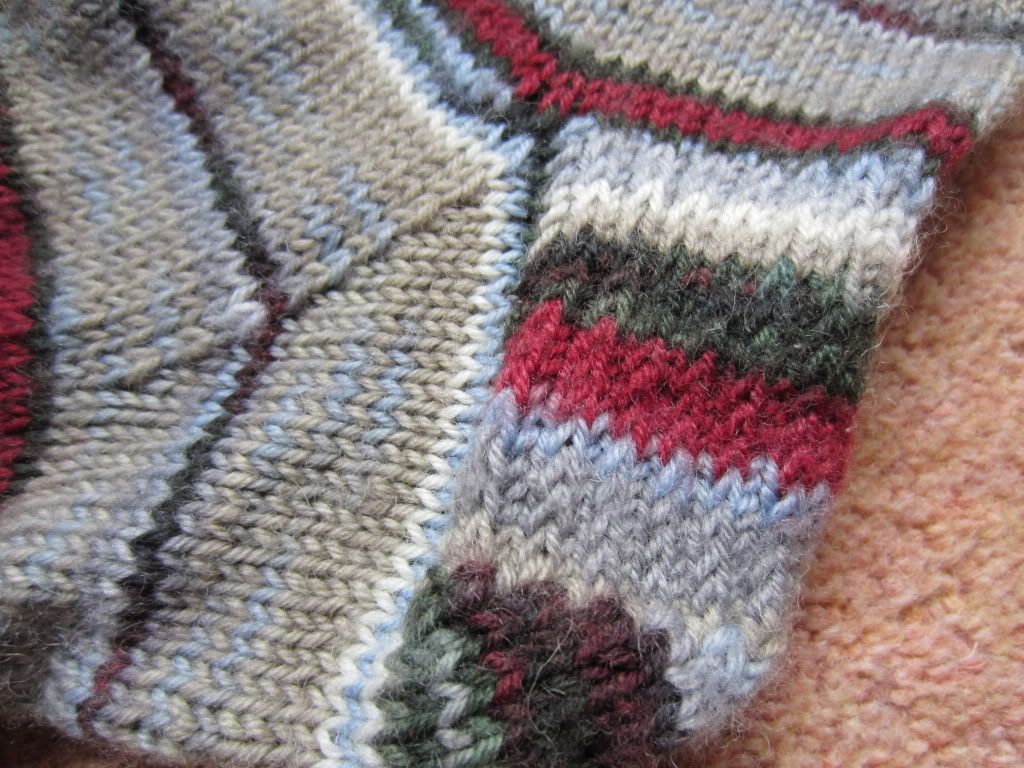 But with this pair I trawled the internet and looked through books to find a pattern for a short row heel that was easy to follow. This method gives the same heel as shop bought socks which I find more comfortable.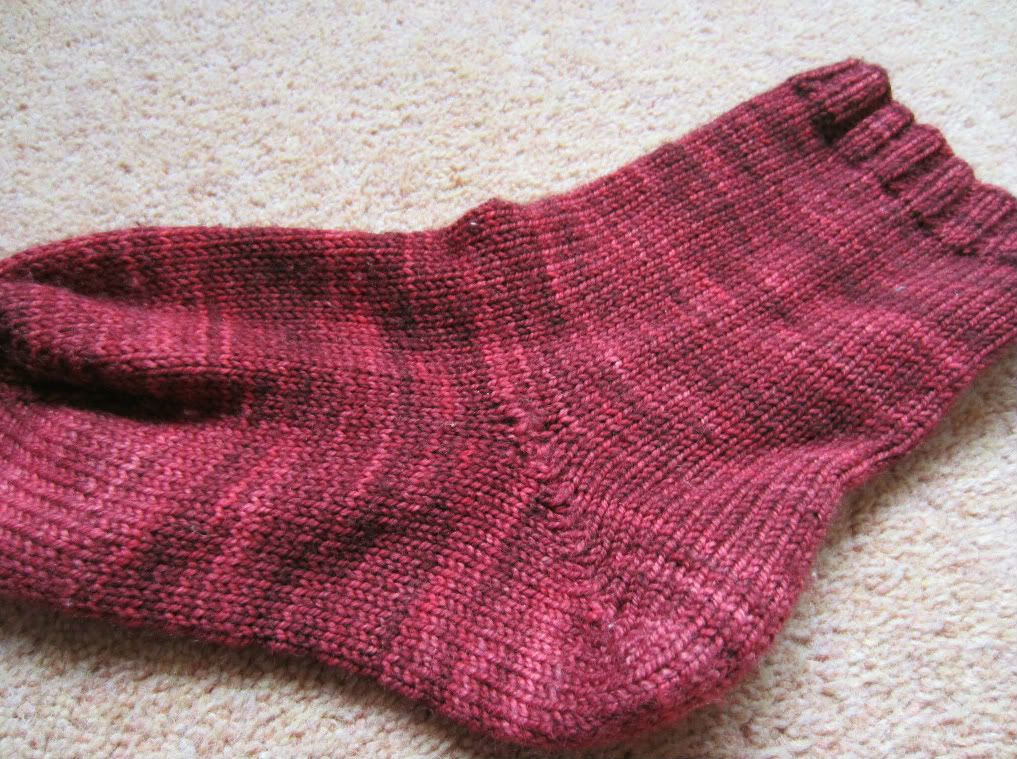 The wool I used for this pair is Madeline Tosh sock wool that I bought from
Loop
when I went to London in November for the Country Living fair. It's 100% Merino and it's gorgeous to work with. Now I've got the hang of knitting in the round I just love making socks. I've got two more skeins of sock wool ready to crack on with.
That's the last of my makes but I want to show you what Hubby and George made for my xmas stocking. Aren't they great ? They are made from polymer clay with tiny mosaic tiles embedded in them.
They are very easy to work with as they are quite chunky and they have allowed me to crochet whilst I've got my bandage on! Something I'm sure I'm not supposed to do. Something I can do of course is buy more wool.
I bought this yesterday, I think I'm going to make a scarf with it, it is wonderfully soft.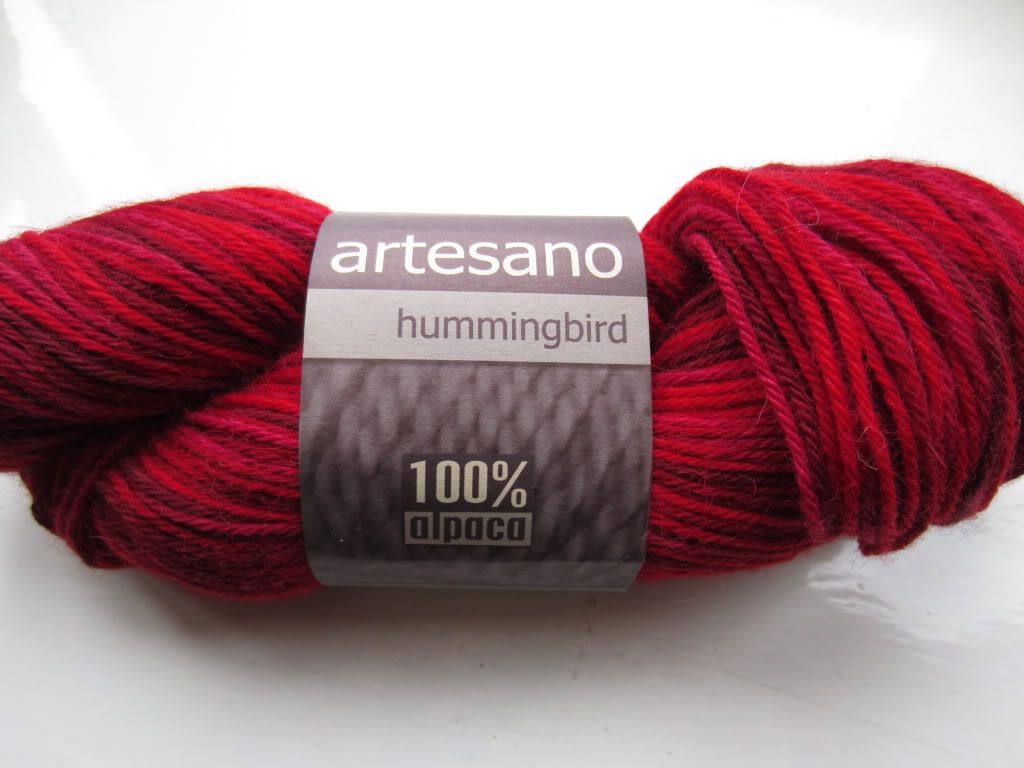 I have also ordered some more wool which I'm expecting to arrive tomorrow so I might be back to show you that. I can't do much at the moment so my blog may get updated more often, although this post has literally taken me all day to do and now I'm worn out. Bye for now.